One Mile MISSION
One Mile guides communities toward collective, poetic re-imaginings of our world, converting problems and concerns into mind-expanding, solution-building public art installations and cultural exchanges.
Founded & directed by artist and cultural leader K. Bradford, One Mile offers transformational, visionary art and social justice programs which build positive, vibrant cultures of social difference, cultural understanding and human sustainability. Working with communities to create imaginative narratives, One Mile invokes compassion and awareness across cultures, classes, genders, races, ages, sexualities, religions and nationalities.
Through a highly inventive, multi-modal learning pedagogy, One Mile uses art, music, story, poetry and performance to open pathways for systemic change in how we see and treat ourselves and others. Socially engaged artmaking workshops explore critical themes and incite a playful yet strategic collaborative process. Hand-tailored, age-appropriate programming centers around a core theme addressed in a culminating public art installation or interactive cultural platform that activates the theme as a nexus for dialogue within the larger learning community.
One Mile provides vital social, cultural themes such as "the wall" — a barrier to be transformed into a new metaphor for understanding. Or, the theme can spring from an issue, question, concern or passion which the community or school proposes. One Mile boldly yet gracefully investigates — and rewires — systemic power imbalances, inviting communities to build poetic yet strategic solutions for change that invoke increased understanding and enduring joy.
Current Partners of One Mile:
Women's Center for Creative Work, Los Angeles

Public Policy Institute at Santa Monica College

Side Street Projects, Pasadena
One Mile Collaborative Team:
Eugene Ahn: digital guru, visual storyteller, workshop facilitator

Fy Fylak: sonic guru, media mixer, music maker

K. Bradford: poetic strategist, metaphor mixer, workshop facilitator, artistic director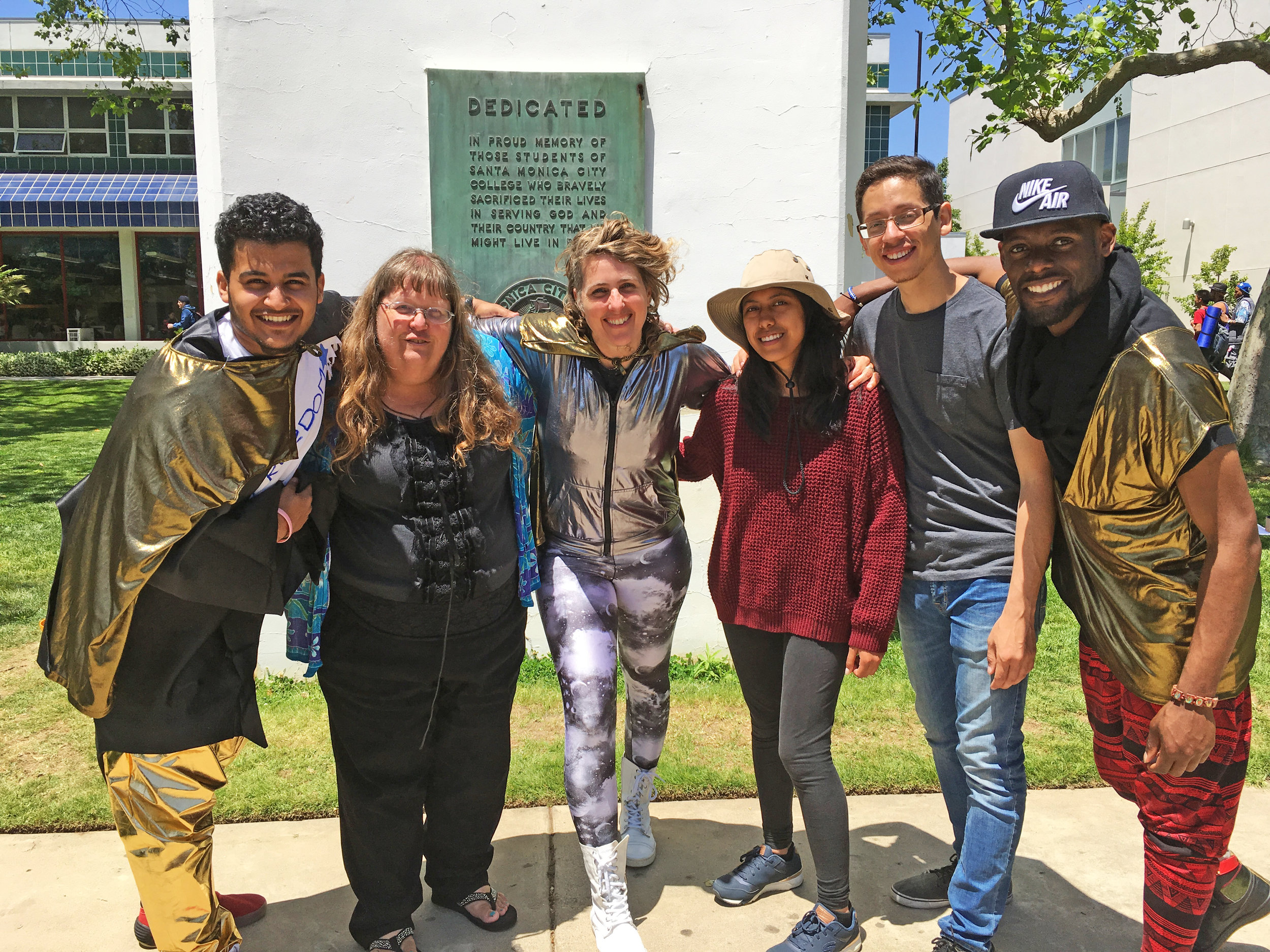 About the founder, K. Bradford
K. Bradford is an arts educator, community-builder and cultural leader who creates innovative, game-changing art events and happenings through poetics, sound, objects, spectacle and community dialogue. A writer and lo-fi mixed media performer, K.'s work has appeared on stages around the U.S. and in publications such as the LA Review of Books, Slag Glass City, Gulf Coast, Trop & Viralnet.net. K. has received scholarships from the Tin House Writers Workshop, Bread Loaf Writers Conference, the Virginia Center for the Creative Arts, Fulbright Scholars Program & others.
Before moving to LA, K. taught poetry and literature for eight years at Columbia College Chicago and was the head of the LGBTQ Office of Culture & Community. They also founded and directed innovative arts programs for marginalized communities — It's a She-Shoot in Austin and The Raw Works in Chicago, both funded for multiple years by City Arts Commission grants. Currently, K. gives public art tours to second graders, teaches literature at Antioch University's Bridge program and teaches woodworking to kids on a school bus turned wood shop. K. holds an MFA in Writing and in Art + Technology from CalArts and a Masters in English Literature from UT-Austin.